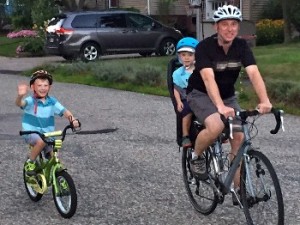 Tech Networks of Boston's Ken Boyle will participate in the first annual Climate Ride Northeast 2015, a multi-day cycling fundraiser and 'green conference on wheels,' with 150 cyclists traveling more than 390 miles from Bar Harbor, Maine to Boston, Massachusetts. The ride will take place from September 17 to 21, 2015, and is designed to raise awareness of sustainability, renewable energy, climate change issues, and bicycle advocacy.
Ken explains, "I've always had an interest in cycling for the fun of it, and also as an everyday means of transport; I've been fortunate enough to have had the opportunity to undertake some amazing cycle trips, most notably cycling from London to Istanbul in 2003 (before I had a family!)".
"I also played a part in the implementation of London's Congestion Charging Scheme in 2003; while not universally popular with the public, it has generated significant revenues that have been invested in improving public transportation, and improved facilities for cyclists and pedestrians. I believe that these investments have changed the face of London for the better, and I'm proud of having been involved, albeit in a comparatively minor role."
Ken states, "I'm riding more than 300 miles toward this effort and raising money for non-profit organizations that I truly believe in."
This September, Ken will join more than 150 other riders who each raised at least $2800 to benefit one of more than 100 organizations including Boston Cyclists Union, Bikes Not Bombs, 350.org, B Lab, New England Grassroots Environment Fund, National Parks Conservation Association, 1% For the Planet, Transportation Alternatives, Alliance For Climate Education and more.
Ken is the Sales and Marketing Director at Tech Networks of Boston, a Certified B Corporation, and he is responsible for facilitating information technology solutions for mission-driven organizations. Boyle is a proud father of two young boys which is why he works so diligently for a better future. This will be his first Climate Ride and he is currently training by riding more than 75 miles per week. Boyle has previously cycled 3,500 throughout Europe.
Climate Ride is the first multi-day bicycle ride to raise money for and awareness of sustainability, renewable energy, climate change, and bicycle advocacy. Participants will cycle approximately 50-70 miles a day, and along the way, they will hear from an impressive list of guest speakers who are leaders in sustainability and green innovation. Topics will include climate science, sustainable living, bicycle advocacy, and environmental activism.
Contact Ken or read his story here to find out how you can help support his journey!