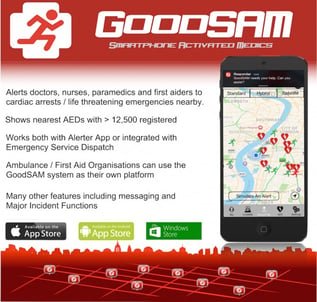 We recently learned of the world's most advanced emergency health care app, a unique app that operates to make life-saving connections, and we wanted to share with you its details and functions.
Think of the Uber concept – except one can request the help of someone to save their life!
GoodSAM (SAM standing for Smartphone Activated Medics) is the first known emergency healthcare app to embrace a secure live video streaming function. GoodSAM allows individuals in need, or the "alerter," to call for emergency services while simultaneously connecting to nearby medically qualified personnel, or the "responder." Once the alerter dials for help (like you would request for an Uber ride), it connects them to the phone of the responder and sends GPS signals. The responder, who can be a certified care provider and/or a registered first responder, is first notified of the alerter and his or her medical emergency, and through an encrypted live-stream video, which also protects confidentiality, they are then able to assess the patient's condition and the severity of their injury. This helps them gauge the appropriate resources and the urgency of care, all while making their way to the scene.
Live streaming has been revealed to increase reaction rate, which is critical to saving people especially in life-threatening emergencies. According to doctors, an individual's response time improves when they know what is happening at the scene. Likewise, it also saves time when the responder knows what is happening prior to arriving at the scene.
This app initially launched in the UK and has spun out to several other countries, including the United States. Their responder network is comprised of volunteer doctors, nurses, paramedics and first aiders. Currently, GOODSAM is making efforts to bring more emergency personal onboard in order to build their network of community lifesavers. There are separate apps for alerters and for responders; both are accessible on any smartphone that uses iOS, Android or Windows.
Have you heard of any news or feedback about this app? Let us know!